DEMOCRATIC TOTALITARIANISM
Mutual admiration society lets tyrants indulge the illusion of political stability

"When the people fear their government, there is tyranny; when the government fears the people, there is liberty." Thomas Jefferson

gregfelton.com
(November 1, 2012)

Behind all the arrogance and smugness, Canada's Stephen Harper is just an insecure petty tyrant. Like any unjust, unconstitutional ruler, he must fight a relentless war against his own country so that he can force it to serve the foreign and corporate interests that put him in power. To do this, he disdains Parliament, violates Canadian law, persecutes critics, tramples on civil rights, and sabotages national institutions.

As expected, Harper is increasingly isolated and loathed at home, so to maintain a power base he must increasingly count on support from a select political circle—of hell, presumably—consisting of corporate kleptocrats, media lackeys, pro-Israel pressure groups, and gormless true believers.

The same is true in foreign affairs. The world sees Harper as crude, ignorant and bumptious, so it's hard to believe he enjoys any respect among civilized nations. "Civilized" connotes reason, compassion, intellect, and respect for the law, all of which Canada is supposed to stand for, and all of which Harper is determined to stamp out.

Harper, who rose like a methane bubble from the cesspit of right-wing populism, is not a tyrant in the usual sense. He exploits Canada not for his own interests but for the interests of a higher-order tyrant. As Israel's proconsul in Ottawa, he serves the Zionist Imperial Authority as well as assorted multinational interests.

Back in June, Globe and Mail columnist Jeffrey Simpson gave this sampling of Harper's tactless bombast in the wake of Canada's first ever failure to win a seat on the UN Security Council:

"Canada's once-sterling reputation for caring about Africa is over. Canada's reputation in the Arab world is mud because although ministers never criticize anything Israel does they never miss a chance to lecture the Palestinians.

"Canada is about to be spurned in its efforts to join the emerging trade bloc, the Trans-Pacific Partnership. Canada's Commonwealth partners are worried the Harper government might wreck the next meeting in Sri Lanka because of its hectoring of that country's government, a policy that curries Conservatives' favour with the large Tamil community in Toronto. Canada's feeble non-climate-change policy is universally panned."

Undoubtedly, Harper knows that the long-term damage he is deliberately doing to Canada and Canadians will cost him in the next election, but he bulldozes ahead as if it didn't matter. Even though the next election is three years away, and Canada's political opposition lacks the brains or the balls to agitate for his impeachment, Harper's fellatial servility to Israel may well turn out to be his greatest liability.

It's one thing for a tyrant to boast of political support from foreign governments if he enhances his country and at least gives the illusion that the mass public benefits in some way; it's quite another to do so for purely selfish reasons at the expense of his own citizens and his country's reputation. Far from being a source of political power, the obscene, conspicuous support Harper gets from Israel may be his undoing.

His Master's Voice—Iran
Harper's latest act of zionist fawning was his unprovoked decision to cut diplomatic ties with Iran and expel its embassy staff:

Did Iranian embassy staff violate Canadian law? No.
Did Iran violate international law? No.
Does Iran pose a military threat to Canada or any nation? No.
Did Iran do anything to justify such an extreme, hostile response? No.

Here is the official excuse: "[Iran] is the most significant threat to global peace and security in the world today." Harper's foreign minion John Baird eventually had to admit that Iran hadn't actually done anything to justify the expulsion, but had, in his words, "the capacity for increasingly bad behaviour."

Leaving aside the inanity of this excuse and the non-existence of "bad behaviour" in international law, who made Canada the world's moral arbiter, what did Baird mean? Developing nuclear power? Well, Iran has every right to develop nuclear power. Unlike Israel and the U.S.—both of which have nuclear weapons and have not signed the Nuclear Non-proliferation Treaty—Iran has no nuclear weapons and is a signatory. Moreover, the U.S. intelligence community concluded that Iran is not even close to building a nuclear weapon, and this finding is unchanged from earlier this year.

"We believe that there is time and space to continue to pursue a diplomatic path, backed by growing international pressure on the Iranian government, said a National Security Council spokesman: "We continue to assess that Iran is not on the verge of achieving a nuclear weapon."

This view is supported by Shannon Kile, head of the Nuclear Weapons Project of the Stockholm International Peace Research Institute: "I still think that we are talking about several years … before Iran could develop a nuclear weapon and certainly before they could have a deliverable nuclear weapon."

In response, a spokesman from the Iranian Foreign Ministry called Harper's government "racist" and condemned the decision as "unprofessional, unconventional and unjustifiable." So, naturally, Israel rushed in to bury Harper with praise. Fellow fascist Benjamin Netanyahu gushed: "I think what you did, severing ties with Iran, was not only an act of statesmanship but an act of moral clarity." Moreover, The Jerusalem Post praised Harper as "Israel's strongest advocate in international forums."

Canada's ingratiating posture toward Israel was perhaps best expressed by Baird in February: "I think the U.S. is a good friend [to Israel], too. I like to think we are better, a stronger friend."

Of course, why Canadian government officials should be advocates for Israel, or any country other than Canada, should be debated loudly inside and outside the House of Commons. On the subject of statesmanship…

Face of the Nation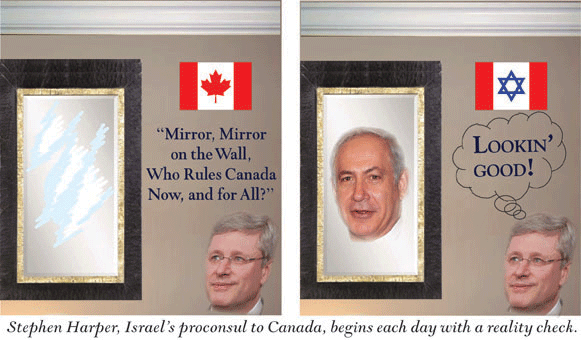 His Master's Voice—United Nations
The "state" receiving Harper's "manship" conspicuously does not refer to his own. For the second year in a row, Harper refused to attend the opening session of the General Assembly. This year, as well as demeaning the UN for its habit of condemning Israeli atrocities, he chose to go to New York's Waldorf Astoria Hotel to receive yet another shot of foreign political steroids.
The Orwellian-sounding Appeal of Conscience Foundation chose to honour His Harperness as—get this—World Statesman of the Year. Though the ACF professes to serve the causes of religious freedom, human rights and tolerance throughout the world, any organization founded by a zionist rabbi (Arthur Schneier) and that includes unindicted war criminal Henry Kissinger as a member cannot be taken at face value. Like many zionist organizations, its positive sounding name has purely propaganda value. Kissinger, himself, even presented Harper with the award.
It is impossible to make sense of Harper's speech, because it was not delivered in English for Canadians, but in Hasbarish, the private language of zionists. In Hasbarish, words have no independent value or any connection to logic or facts, and as such cannot cannot be used to formulate truth claims about anything. Hasbarish is a Humpty-Dumpty argot in which words mean whatever a zionist wants them to mean, and about which no debate is tolerated. In short, Hasbarish is a quasi-religious "anti-language" designed to impose irrational belief, not engender rational thought. Hasbara is based on claims of fallacy. It is the language of liars.
Here are two brief excerpts from Harper's acceptance speech in which you can see how Harper's Hasbarish depicts unreality.
"We Canadians are very conscious of our own sovereignty and we expect our governments to make pragmatic decisions in Canada's national interest."
(Based on this claim, Harper should be impeached. Here we see how empty, generic assertions can be abused for rhetorical purposes.)
"I speak not merely of [Iran's] appalling record of human rights abuse or its active assistance to the brutal regime in Syria or its undeniable support of terrorist entities or its determined pursuit of nuclear weapons."
(Hasbarish does not allow "appalling," "brutal" and "terrorist" to apply to Israel or the U.S., so the sentence is little more than an insult. Note also the disconnect between Hasbarish and reality in the tendentious reassertion of Iran's determined pursuing nuclear weapons, which is untrue.)
The chasm between Canadian reality and Harper's Hasbarish has reached such cartoonish proportions that Israel is now an electoral liability for him. The fact of fascism in North America has become so overt that even the Globe and Mail, usually a loyal source of pro-Israel/pro-Harper tripe, can no longer stay silent. On Oct. 30, it ran a story headlined "Michael Ignatieff's Timely Warning on the Politics of Fascism." Though addressed to a U.S, audience about U.S. politics, the article's right-wing columnist John Ibbitson even had to acknowledge that former Liberal leader Ignatieff's warnings about fascism's hastening the decline of the English-speaking world were wise and also applicable to Canada.
We should all hope that Canada stills exists in some recognizable form by the next election so we can all dance on Harper's grave.